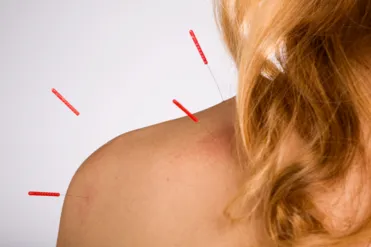 Acupuncture is an ancient Chinese medicine used to alleviate pain and promote overall health. Acupuncture uses needles placed along invisible meridians that run throughout the body. Today, acupuncturists also use lasers, magnets and electric pulses in addition to needles. Each meridian point has a specific meaning and can unblock and repair meridians and channels with vital energy or chi. Through the stimulation of the meridians, an acupuncturist is able to restore balance and ergo health to the patient.
Acupuncture is used to treat a wide range of health problems, such as:
Persistent lower back pain
Chronic tension­-type headaches and migraines
Neck pain
Joint pain
Postoperative pain
Allergies
Depression and anxiety
Insomnia
Acupuncture takes a holistic approach to understanding normal function and disease processes, and focuses as much on the prevention of illness as on the treatment.


Lucy Diskant, Practitioner of Oriental Medicine
Lucy Diskant began to pursue her passion for medicine more than 30 years ago and studied many modalities. In the country of her origin, it was required to become an M.D. before branching out to any alternative medical modality, including nutritional therapy. Because of this fact Lucy "talks the talk" of your doctor and welcomes a cooperative approach with any of your health professionals.

Her major focus today is acupuncture, herbology, clinical nutrition and health coaching. The scope of practice for a Practitioner of Oriental Medicine (L.0m) in the state of PA includes all of the above mentioned modalities--plus cupping, Gua-sha and massage.
Lucy is an alumnus of Samra University of Oriental Medicine in California. It is worth mentioning that California practitioners of Oriental Medicine are primary care providers by the law of the state; and as an outcome of this are allowed to refer to other specialists, read test results and order many tests. Please bring your latest blood test results to your Nutritional consultation.
If you have a particular issue or question, please ask our receptionist.