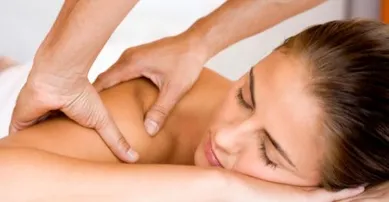 Massage Therapy is available by appointment at Benoff Chiropractic Center with our PA State Licensed Massage Therapists who are highly trained and experienced in many areas including:
Acupressure
CranioSacral Therapy
Deep Tissue Massage
Lymphatic Drainage
Myofascial Release
Pregnancy Massage
Reflexology
Reiki
Shiatsu Shin Tai
Therapeutic Massage
---
Shiatsu Shin Tai

Shiatsu is a form of bodywork stemming from Japan. It utilizes pressure, rocking, and stretching to access and move an individual's energy for the purpose of stimulating healing through the intelligence of the body. Shiatsu works with the meridian system and includes elements of muscle work, fascial release, and craniosacral work.
Client is fully clothed--comfortable flexible clothing is suggested.
---
CranioSacral Therapy

A very gentle, light touch approach that releases tension in the Central Nervous System so that every other system in the body can relax, self correct, and free itself of pain and discomfort.
Client is fully clothed.
---
Reiki

Reiki is a laying on of hands touch healing system shared with humanity through a man by the name of Mikao Usui from Japan. The word Reiki literally means Universal Life Force. It is a very gentle form of bodywork that supports an individual in reducing discomfort and stress on many levels.
Client is fully clothed.
---
Therapeutic Massage

A traditional Western approach to massage that utilizes creams and oils while working to relieve muscular tension and discomfort.
Client is disrobed--sheets are used for draping and modesty.
---
Deep Tissue Massage

While many massage techniques induce relaxation with soothing and gentle kneading, deep tissue massage involves more intense muscle manipulation. Deep tissue massage therapy is similar to Swedish massage, but the deeper pressure is beneficial in releasing chronic muscle tension. Additionally, this type of massage reduces stress hormone levels and heart rate while boosting mood and relaxation by triggering the release of oxytocin and serotonin.
Unlike most traditional massage that promotes whole-­body relaxation, deep tissue massage is often used to target specific trouble spots after an accident or injury has left you stiff and sore, as in instances of whiplash or falls.
Deep tissue massage is used to treat a variety of physical ailments such as:
Chronic pain
Fibromyalgia
Injured muscles
Limited mobility
Postural problems
Sciatica
Osteoarthritis
Before a deep tissue massage, a trained and certified massage therapist will discuss the client's accident, injury or complaints of generalized stiffness, gaining an understanding of how the pain or injury is impacting the client's daily life and what he or she is hoping to gain from the massage therapy. The massage itself will be customized to the specific needs of the client, focusing on the stiff, sore and achy areas that are of the most concern.
Deep tissue massage works by breaking down muscle adhesions that can build up after an accident or a chronic illness. By applying intense, controlled pressure and friction to an afflicted area across the grain of the muscle, deep tissue massage relaxes rigid tissue and relieves the pain associated with stiff muscles, ligaments and tendons.
Deep tissue massage may cause some discomfort, and therapists encourage their clients to keep them informed about their comfort level and pain tolerance during deep tissue therapy.
Therapists may encourage their clients to apply ice to tender spots following a deep tissue massage. Some soreness the day after a deep tissue massage can be expected, though the discomfort should pass in a day.
---
Lymphatic Drainage

The Lymphatic system's job is to detoxify bodily fluids before they are circulated into the blood stream. The Lymphatic system moves the fluids through the body and then to the liver. Toxemia and swelling is a result of the Lymphatic system not working properly. Lymphatic massage reduces muscle swelling, which increases blood flow, which in turn supports proper Lymphatic system functioning.
---
Myofascial Release

Myofascial release involves applying gentle, sustained pressure to the Myofascial connective tissue restrictions. The massage relaxes the contracted muscles and increases venous and lymphatic drainage. Myofascial release treats somatic dysfunction and relieves the accompanying pain and limited range of motion.

---
Pregnancy Massage
Attending to the unique needs of expectant mothers is the goal of every prenatal massage. Certified prenatal massage therapists are specially trained to tailor their massage techniques to help alleviate common pregnancy complaints and to protect both mother and child during the massage.
Prenatal massage is unique in its application. During the massage, the expectant mother is carefully supported by cushions and pillows in order to provide superior comfort and protect her and the baby from strain or injury. This also helps alleviate extra strain on the lower back and pelvic areas when the pressure of massage techniques are applied.
Prenatal massage is especially gentle, and deep tissue techniques are never used as a safety precaution. In fact, many areas of the body are avoided during this massage to protect mother and child, while extra attention is given to areas of the body that are particularly affected by pregnancy, like the feet and back.
The benefits of prenatal massage are numerous. The gentle kneading massage can be supremely comforting both physically and emotionally to an expectant mother, and the psychological benefit itself can be quite therapeutic. In addition to stress and anxiety reduction, prenatal massage can help reduce expectant mothers' common aches and annoyances, like swollen ankles lower back pain, leg cramps and headaches.
Women with normal, low-­risk pregnancies can benefit greatly from prenatal massage. However, women in high­-risk pregnancies should consult their doctor or midwife before beginning a massage therapy program.